The Dogecoin fork outpaced major blockchain technologies such as Stellar and Polygon to become a $11 billion cryptocurrency project.
The rise in the price of Shiba Inu (SHIB) so far in October has propelled the SHIB token to the 20th position in terms of market capitalization.
Shiba Inu's circulation market valuation surged to $11.08 billion earlier this week and is now beyond $10 billion, putting it in the top-20 by market capitalization for the first time. As a consequence, the Dogecoin-inspired joke cryptocurrency surpassed prominent blockchain projects like as Stellar (XLM), Polygon (MATIC), and Tron (TRX).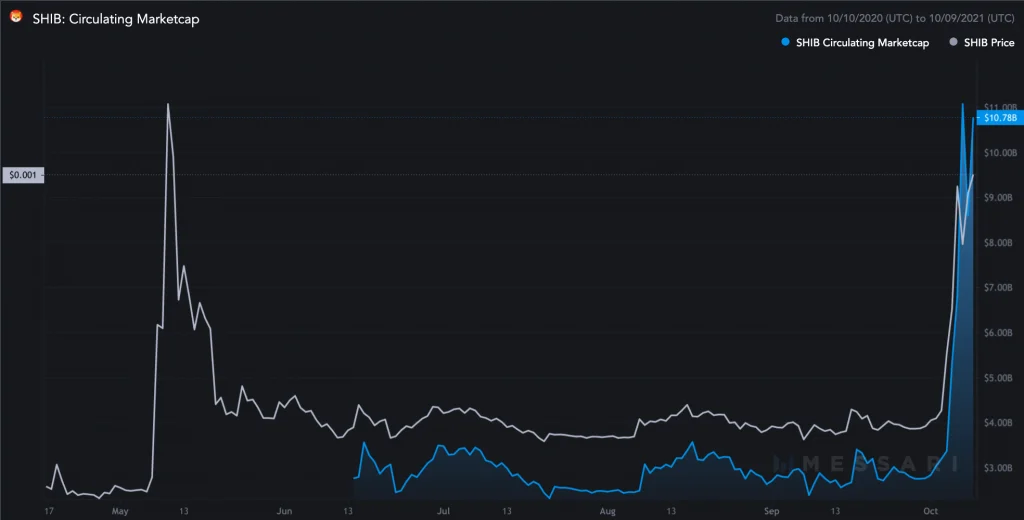 The increase in Shiba Inu value followed Elon Musk's tweet. On Oct. 4, Tesla CEO Elon Musk tweeted a photo of his beloved dog, a Shiba Inu, with the caption "Floki Frunkpuppy." An hour following the tweet, SHIB increased by more than 40%.
Crypto speculators frequently overreact to Elon Musk's tweets. For example, earlier in 2021, the wealthy entrepreneur was crucial in driving the Dogecoin (DOGE) price upward via Twitter.
After beginning the fourth quarter of 2021 at $0.00000725, the price of SHIB increased by over 400% in a week. As a result, on Oct. 7, the token retested its five-month high of $0.00003528.
The sell-off in Shiba Inu markets versus the dollar and Bitcoin (BTC) triggered a buy-the-dip mentality. A rebound rally occurred, causing the SHIB price to rise by more than 45 percent. On October 9, the coin was trading at $0.00003020, with a market value of roughly $10.73 billion.