Bitcoin (BTC) fell below $54,000 on Oct. 7 as traders speculated on how far a reversal of Wednesday's $5,000 gains may go.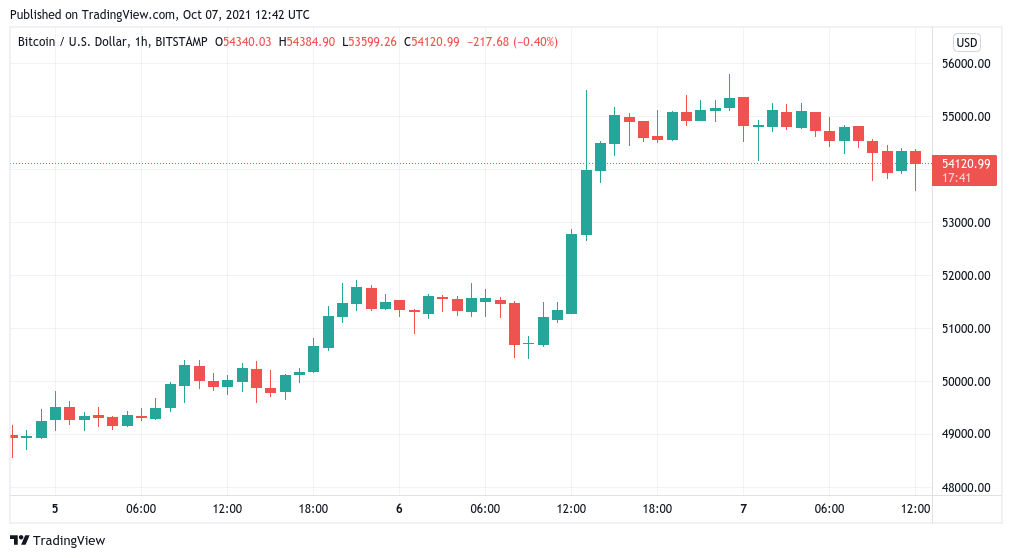 According to Cointelegraph Markets Pro and TradingView data, BTC/USD was down 3% on Thursday, aiming for $53,000 — and its $1-trillion market value — before rebounding.
The pair had reached a local high of $55,800 – its highest level since before the May mining collapse — but it did not take long for overly enthusiastic markets to show symptoms of exhaustion.
With volatility persisting, analysts were taking advantage of the chance to zoom out from spot price action once more.
"Historically, BTC has had an average positive monthly return of +32 percent in the month of October," according to Rekt Capital.
"This October, $BTC has already rallied +29% and it's only the first week of the month."
While remarkable, such a performance may still indicate the beginning of consolidation, positioning Bitcoin to form higher support before pushing through to a predicted $63,000 by month's end.
Such a monthly finish, called the "worst-case scenario," would still outperform October's average historical gains. The greatest year on record is currently 2017, when BTC/USD increased by 47 percent.

Dogecoin outperforms the rest of the cryptocurrencies.
Altcoins continued to lag in the aftermath of Bitcoin's gains for the day, which was not missed on mainstream media.
Only Dogecoin (DOGE) equaled BTC/USD weekly increases, reiterating typical behavior from Q1 of this year. At the time of writing, both were up 25% in seven days.
However, the largest cryptocurrency, Ether (ETH), was calmer, achieving 20 percent weekly gains and hovering around $3,575.