With a 0.1 percent loss on the daily chart, Cardano (ADA) is currently trading at $2.36 per token.
If the bull retakes a higher level, Cardano may restart its upward trend.
Bitcoin's price behavior might determine whether bulls or bears are in charge.
Cardano (ADA) has done well in the crypto market so far this year, and it looks like that trend will continue. Due to this, ADA has passed a significant milestone on its way to become one of the top ten most valuable cryptoassets worldwide..
Cardano (ADA) is now placed third on the daily chart, trailing only DOGE, XRP, and BNB. It is currently trading at $2.36, down 0.1 percent. With a weekly loss of 5.8%, the third-largest cryptocurrency by market capitalization is losing ground.
Going back in time, the crypto underwent a wave, with a significant decrease on September 7th, followed by a rapid recovery into the high range of its present values. Cardano (ADA) was trading at $2.70, with support around $2.60, $2.47, and $2.30. It's not looking good for Cardano, which is in free fall. The bears' final roadblock is the previous support level.
Cardano (ADA) may potentially restart its upward path if the bulls reclaim higher levels. As a result, the price of Cardano (ADA) has been trading below a recent trend line. The chart below shows that the downside risk for Cardano (ADA) is increasing.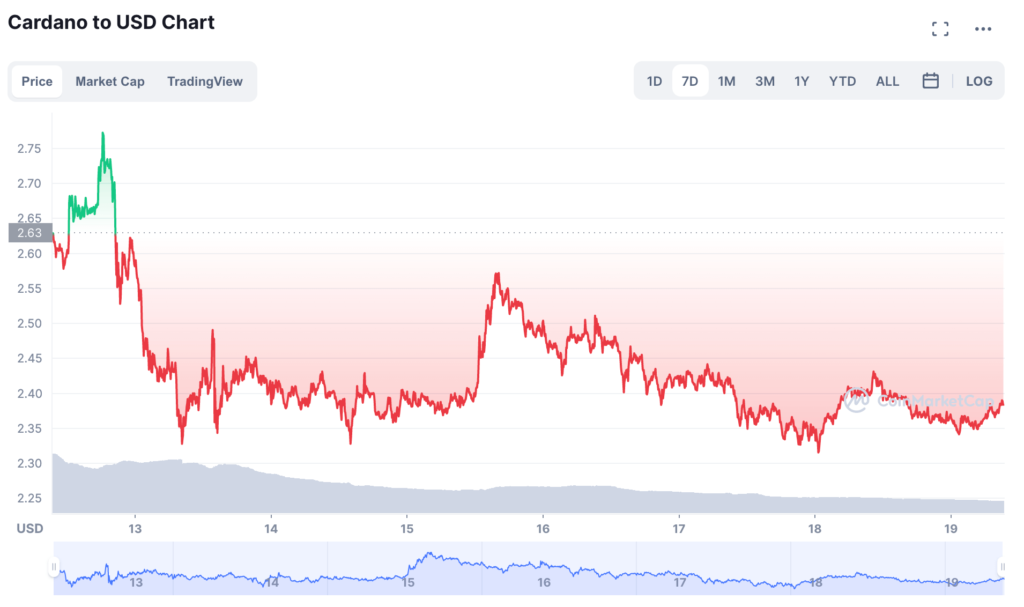 Bitcoin's impact on Cardano (ADA) and other altcoins
Bitcoin (BTC) is revered as the founding father of the cryptocurrency industry. After twelve years, Bitcoin's value has remained stable despite the emergence of other cryptocurrencies. Bitcoin is often referred to as "digital gold" by cryptocurrency enthusiasts. Some believe Bitcoin is a safe haven for future cryptocurrencies in development.
As a result, according to Analyst Justin Bennet, the price movement of Bitcoin (BTC) might be "a decisive factor for other cryptocurrencies in the key days for the whole crypto market.".
Bitcoin may increase, but other cryptocurrencies, such as Cardano (ADA), may fall in value.
Investors, on the other hand, were urged by the expert to monitor the dominance of Bitcoin (BTC) in order to mitigate risk.